Tigerwood Decking
Tigerwood is a favorite deck material among deck builders throughout North Carolina. It's easy to see why. An extremely easy hardwood to install, Tigerwood is a visually attractive decking material that makes a lasting impression. The rich rust colored oranges, reddish browns, and bold black streaks will give you the exotic oasis that you seek. Besides looks, what else makes this Brazilian decking option worth considering?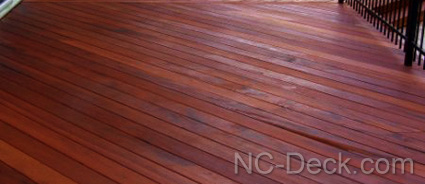 Tigerwood is a tough, and durable decking option that is:
Cheaper, yet more durable than composite decking
Reliable with a lifespan of over 30 years
Naturally resistant to mold & decay
Can be kept clean with simple surface washing
A breeze to install
In NC, Tigerwood is available in a number of sizes and profiles. We are currently shipping S4S E4E (standard), Pre-grooved, and Tongue and Groove Tigerwood to NC via freight trucks. We do sell samples and can provide those via UPS ground.
See our Tigerwood Decking Prices.
Decking NC
Use our decking quote form if you are you interested in using Tigerwood for your North Carolina home or business. Simply select Tigerwood, and provide your specifications. If you have a custom job and have special specs you need us to consider, no problem. Just let us know and we'll get you an estimate in as little as 24-48 hours.