Decks in North Carolina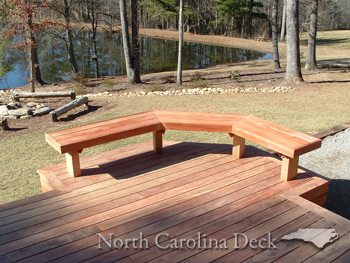 Our warehouse in North Carolina is less than an hour away from Charlotte NC. We ship decking to this area on a regular basis. With dedicated shipping channels throughout NC, delivery times are counted days, not weeks like with other decking companies. We won't even mention all the money you're saving.
We set up this location in Beautiful North Carolina because so many people buy decking here. Out of all our tropical hardwoods, Ipe sells the best, and with good reason. The Charlotte NC and the all of North Carolina has a climate that's hard on decking material.
North Carolina is mostly forested mountains. These mountains cause some rough weather:
The sun blazes on a NC deck all summer long.
In the spring a low lying deck can stay moist for weeks at a time. This is the perfect breeding ground for mold. It's also composite decking's weakest point, in that it molds easy.

Ipe does not. Tropical hardwoods in general are resistant to mold and mildew but ipe has more of the natural enzymes that resist fungus.

In the fall, fallen leaves and pine needles will cover a Charlotte deck, and keep covering it. This is a haven for the mildews and bacteria that grow on fallen leaves.
In the winter, there's snow. If Ipe can stand up the many feet of lake effect snow that fall on the decks in Buffalo (another place we deliver tons of ipe decking), then rest assured that it will handle the weight of the snow on your deck or porch.

Another nice point is that if you want to, you can shovel the snow off your porch or deck and not worry about gouging it like you do with man made decking materials. Read our ipe features page about the superior durability of ipe.
So remember, North Carolina, if you're planning building a deck soon, it's going to face some tough conditions. You want deck material that can stand up to NC's weather for many years and still look great.