Ipe Decking NC
Ipe Decks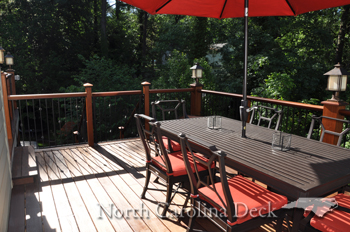 Let's be perfect clear on one thing, right up front: Ipe Decking—and all of our decking—is 100% solid hardwood. It hasn't been pulverized, mixed with glues, and reshaped. It's not man-made material. This serves the homeowner or businesses that uses it in many ways besides just it's obvious beauty. Ipe deck boards are strong and long lasting; they are resistant to decay, wood eating insects, mold, bacteria and even fire! This is due to it's density and the natural chemicals (called Flavonoids) that grow in these hardwood trees (especially Ipe). Let's examine the extraordinary benefits of ipe decking:
Strength:

Ipe ranks 3680 on The Janka hardness Scale, that makes it way tougher than any composite or man-made decking (except metal) on the market today. That's 8 times harder than Cedar.

Durability:

75+ year lifespan with minimal maintenance.

Decay resistance:

Ipe decking is so resistant to rot and decay because of the oils that are secreted as it's growing in the tropical forests of Brazil (where the ecosystem is super tough). These oils act as anti-bacterial agents. In fact, one oil (Lapacho oil) is used as topical anti-biotic cream. Ipe's density has a lot to do with it as well, as this naturally slows down the decay process a great deal.

Termite Resistance:

The oils mentioned above also act as an insect repellent. there are lots of wood eating insects in the forests of Brazil. most of them more aggressive than the ones here in America. To survive and flourish as ipe has, it has to have a resistance to these insects.
Again it's hardness helps resist insects by simply being too hard to bore into and/or eat. In fact, it's so hard it ruins cheap drill bits!

Fungus resistant:

It's the oils again. These oils keep the fungus of the tropical forests (where it's steamy, hot, and rains every day) at bay. Ipe Decking certainly isn't going to get moldy in a North Carolina back yard.
Thanks to international pressure, Brazil has been practicing very strict sustainable forestry practices by law for decades. This has helped the ipe population rebound and ensure there will always be plenty. This has also caused the price to fall dramatically in the past ten years. Our commitment to sustainable forestry and our desire to be able to prove this commitment to you, we've gone the extra mile and become an FSC® certified decking supplier.
Ipe Decking is the best value in deck material. Please check our prices and then stop by our price quote page (or just call us).